Katimavik Group 101, 1985-1986
Richmond BC, Calgary AB, Gatineau PQ

---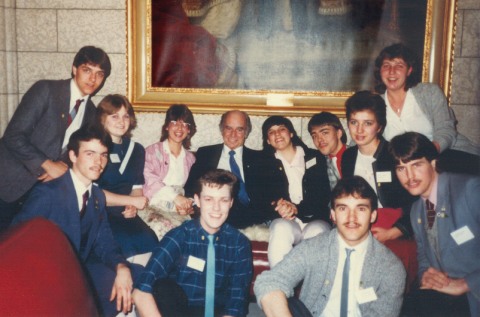 Here is a picture of our group with Former Senator Hebert. I am the dapper young gent on the far left ;-) It's one of the few group pictures that actually has the group as we were when we finished the program!

You can find more pictures here.
Or read the lyrics to our song.
Manon coined our group motto "C'est Katimavik!" This would sometimes be followed with the group chant:
Katimavik ... POWER!
Here is a list of the participants in our group. I won't write anything here about the program as I think everyone has their own take on it. Click on the underlined names for a page about them.
Nathalie Cool
Jesse Strang
Lizeta Gould
Raymond Routhier
Kristie Woudstra
Jackie (Medak)
Francois Beaudoin
Manon Marcotte
Sherry Bailor (Albersworth)
Our Group Leaders (That's what they called them then. Now they are Project Leaders)
During the our third rotation Jackie refined our group song. It starts like this:
Oh! We joined for the money and the fun (BIS)
But the money there is none
and the fun has just begun
roll along Katimavictims roll along
more ...
---
© Copyright 2002 Lorrex Inc
This site is neither approved or endorsed by Katimavik. Names listed here are entered by the listing individual.
Web design by Lorrex Inc. Web space provded by Sentex Communications.
Send comments and suggestions via email to Feedback


File Number: 8055